A venture capitalist is an investor who provides funds to a startup business in exchange for a share in the company's profits. VCs also act as fund managers and analysts whose job is to invest money into other businesses.
They source funds from high-net-worth individuals and partners to fund large-scale growth and are typically willing to take more investment risks than traditional banks. Venture capitalists see the risks of a startup company as an opportunity for cheaper valuation and will provide the large amounts of money needed to fund a new business through various stages of development if they can arrange a deal with the entrepreneur.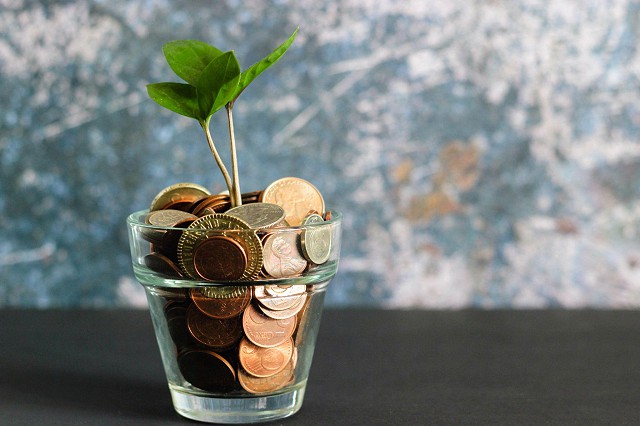 Who is the largest Venture Capital Fund in Australia today?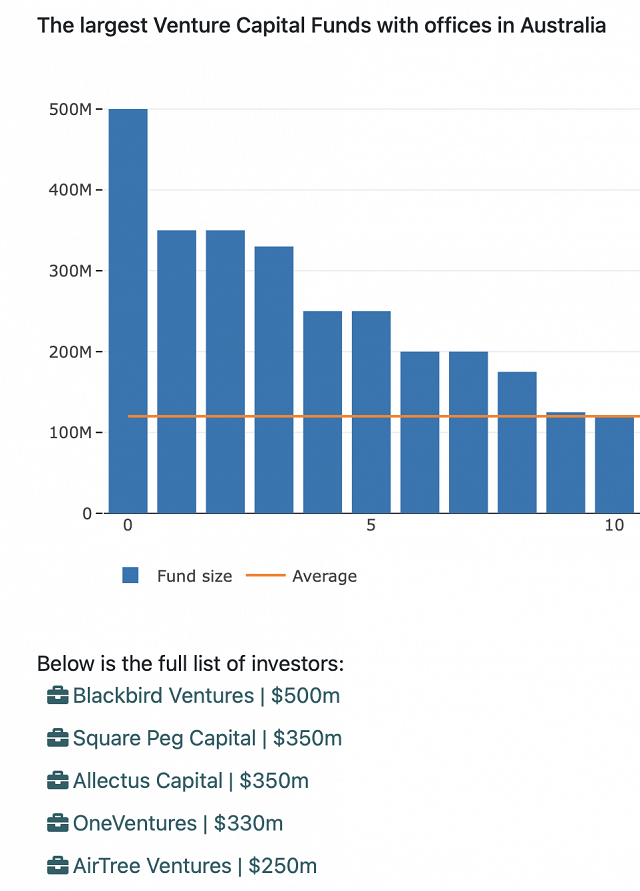 Blackbird Ventures is the largest Venture Capital fund in Australia with a wide margin by fund size with a 500 million asset under management (AUM). However, this statistic only includes investors with an office in Australia. The presence of a physical office is an easy way to show an investor is active in the region. However, many investors invest in Australia without an office. We present statistics in multiple ways: first limiting our search to include only investors with a physical office, and broadening the search to investors with a stated interest in the Australia/NZ region.
If we loosen the criteria and include all venture Capital investors who invest in the broader Australia/NZ region without necessarily having an office in Australia, New Enterprise Association holds the crown with a whopping 10 billion in assets under management.
How do startups get investments from Australia's top VC firm - BlackBird?
Stage 1: Share Pitch Deck
Stage 2: Meeting & Discussion
Stage 3: Due Diligence & Lead investor
Stage 4: Pitch to Investment team
Stage 5: Decision and Feedback
Stage 1: Pitch Deck makes the initial impression on the venture capital firm.
Stage 2: Founders are challenged on a few things, usually related to what Blackbird looks for in founders.
Stage 3: Founders will have a second meeting with the lead investor who's interested in them to dive deeper into their vision, metrics, team and how they plan to use the capital they are raising. This is also when BlackBird's due diligence starts, and the lead investor will start helping founders prepare to pitch to more of our investing team.
Stage 4: This is the founders' chance to prove how they can be a generational company!
Stage 5: BlackBird will give a clear response as soon as they can with the feedback.
At which stage of a business does VC money flow into?
Contrary to conventional belief, venture capital plays only a minor role in funding R&D to kick-start a business. Where venture money plays the most important role is in the next stage of the innovation life cycle—the period in a company's life when it begins to commercialise its innovation. It is estimated that more than 80% of the money invested by venture capitalists goes into building the infrastructure required to grow the business through investments (manufacturing, marketing, and sales) and growing the balance sheet by providing fixed assets and working capital.
On an interesting note, the lack of industry-specialised VC firms in Australia presents an opportunity. HQ Fund intends to be a niche VC fund with a focus on investing in tech startups with diverse founders. Not only does it align with the original mission of Hatch Quarter, but also it carries the potential to enhance the export industry through the networks and connections of the diverse founders, and to work with international investors to export Australian tech solutions to their local markets.
Providing business expertise
A venture capitalist will contribute to the business operations of the new company. They may work to hire management as the company grows, serve on the board that makes decisions for the business and grow relationships between the startup and other investors. They provide proven expertise in guiding a company from an idea to a profitable business.
Managing funds for partners
Since venture capital is funded privately, the venture capitalist is responsible for generating returns to the group of partners who provide the cash for investment. VCs invest their funds into a new company to generate a profit. Investment partners look to venture capitalists to make smart decisions with their funds.
In a nutshell, a venture capitalist acts as a catalyst for a startup that has solid growth plans. It is the fertiliser to a business that just had its seed lifted off the ground. It pours funds to fuel the growth of early-stage businesses.
Disclaimer: The information provided in this blog is strictly for educational purposes, It does not constitute investment, accounting, financial, legal, or tax advice. It has been prepared without taking into account your personal objectives, financial situation or needs. Before acting on any information you should consider the appropriateness of the information having regard to your objectives, financial situation and needs. The views and opinions expressed in this blog are those of the writer and do not necessarily reflect the views or positions of Hatch Quarter Pty Ltd.