A glimpse into the MENA startup ecosystem with Careem, the largest ride-sharing company in the Middle-East.
Recently acquired by Uber for $3.1 billion, Careem operates across 14 countries in the Middle East, offering ride-hailing, deliveries and payments to more than 33 million customers – and has tech hubs in Berlin, Dubai and Pakistan. Careem also plays an important role in extending the ecosystem of startups of Hatch Quarter (a leading startup incubator and co-working space in Melbourne, Australia) into the Middle East.
If anyone can embody Careem, it's Managing Director, Ibrahim Manna. At the age of 18, he started his first company in Jordan where he introduced selling DVDs online with a 30-minute delivery guarantee.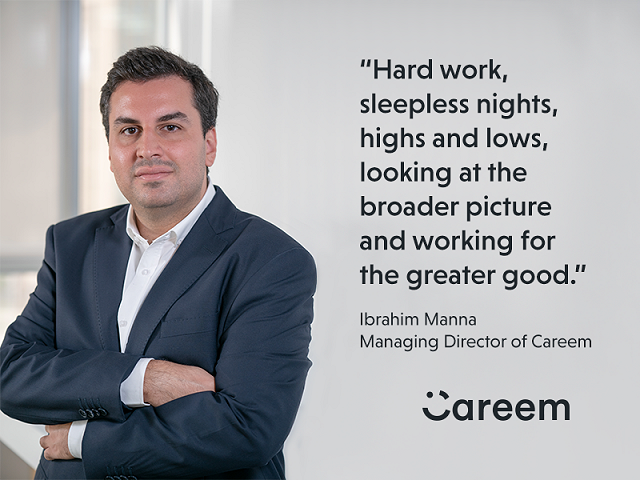 After three years, his company grew and was rebranded to become "Wheels Express" – a one-stop convenient shop with a commitment to deliver everything from groceries, laundry, movies, prepaid sim cards, concert tickets and more, all in one hour.
He then moved to Dubai to begin his third-party business called "Ship & Collect" – a domestic courier service with fulfilment services in the UAE. From there, he decided to join Careem and continued his entrepreneurship journey to align his mission with Careem's values.
As Hatch Quarter is actively assisting Australian startups to enter the MENA region, we were presented with an exclusive opportunity to interview Ibrahim Manna. In this interview, Ibrahim goes deep on what it takes to run the largest ride-hailing app in the MENA region and expanding globally.
HQ: How do you think the tech and entrepreneurship ecosystem can expand beyond the MENA region?
IBRAHIM MANNA: The MENA region's entrepreneurial ecosystem has been expanding significantly over the years, and will increase rapidly. This region is unique, and its capabilities and opportunities are compatible. There are some challenges in the region that require sensible solutions to keep up with its constant changes, and once startups or companies are ready to expand to the rest of the world they need to concentrate on scaling these solutions.
Egypt is a leading example according to the Global Entrepreneurship Monitor Report 2017; 73% of the population of Egypt find entrepreneurship a key career choice. 1 in 4 young people (aged 18-29) are unemployed in the region according to HuffPost and there are millions of opportunities yet to be created.
"We need to encourage entrepreneurs and investors from the MENA region to invest in the region first, then expand into the rest of the world."
That being said, I am confident that there are renowned companies from the MENA region that have succeeded to scale into other continents. These companies are growing in a healthy manner and are still intending to continue extending their presence beyond the region such as Aramex, Emaar, Damac and many more.
HQ: How important is it for market-ready startups and scaleups in the MENA region to go global?
IBRAHIM MANNA: It is very important. To be able to expand geographically and to succeed you need to understand the scope of your abilities and opportunities, define your business method, study your services and understand how it will be implemented with minimum tweaking ahead of your geographic expansion.
"You have to determine the cost of your expansion, not the cost of developing your commodity from scratch."
Startups from the MENA region usually expand their presence into Europe, central Asia and North America.
HQ: What areas do market-ready startups and scaleups need to explore before going global?

IBRAHIM MANNA:
- Market product fit
- Problem statements
- Expected challenges
- Size of the opportunity
- Regulations
- Capital control restrictions
-Legal incorporation requirements
- CapEx and the investment required in the opportunity
HQ: What are the 3 biggest challenges with running Careem and how do you work around/manage them?
IBRAHIM MANNA: Like any other company, at Careem we face challenges occasionally, but there are usually many solutions to a given situation. To the world, the MENA region is perceived as one nation, while in reality, we are more than 30 countries that speak different languages, come from different backgrounds, experiences and lifestyles. At Careem, we're working on launching a platform which will enable entrepreneurs to gain and benefit from the infrastructure established in our 14 countries.

HQ: What are the 3 greatest achievements you've faced in Careem?
IBRAHIM MANNA: Living Careem values: simplifying the lives of people and building an awesome organisation that inspires. Since launching our services in challenging countries such as Iraq, and Palestine. We definitely see the positive impact our services can reflect on its people.
Since the inception of Careem in 2012, we were able to create more than one million employment opportunities for Captains (drivers) across the MENA region. Our Captains are the reason we exist, and they are a major part of why Careem started its operations in the first place. We always find ways to enrich their experience and motivate them continuously, considering that they are the backbone of the company's business across the markets.
We are continuously launching local initiatives and supporting worthy causes. For example, we partnered with UNHCR and leveraged our platform to help refugees by offering a UNHCR car type through which customers can donate. Thanks to our customers, we were able to raise more than $100,000 in donations to support families in need.
HQ: If you could start all over again, what would you do differently?
IBRAHIM MANNA: I've learned and grown a lot, both personally and professionally. As I gained more experience through my journey as an entrepreneur, I was able to optimise my learnings which helped me work on launching several markets at Careem. There are no regrets and I wouldn't change anything.
HQ: Share one personal business highlight that you've had over the past year?
IBRAHIM MANNA: I was attending a business meeting in Iraq, and after reviewing our objectives, one of the meeting attendees from a well-known organisation said:
"Careem has helped change the transportation sector in my country, it is also safe and I trust my family to use it, mainly it has given our young unemployed youth an opportunity to utilise their time in making a difference for their country."
As the MD of Emerging Markets, my team and I were able to launch the company's services in 8 out of 14 countries, that Careem operates in across the region.
HQ: What made you decide to be an entrepreneur?
IBRAHIM MANNA: I grew up in a family of entrepreneurs and I am very appreciative of the path they've chosen.
"But, knowing all the successful businesses my family were able to achieve, added more pressure on me to live up to their legacy."
Thanks to my family, I was encouraged to start my own startup when I was only 18 years old, and that was my mark to the first step into this journey.
I am glad to have joined a company such as Careem that allows entrepreneurs to live their full potential while backing them up in different domains.
HQ: What does entrepreneurship mean to you?
IBRAHIM MANNA: Hard work, sleepless nights, highs and lows, unlocking opportunities, looking at the broader picture of helping others and working for the greater good.
HQ: What's your most successful venture?
IBRAHIM MANNA: Depends on how you measure success. For me it is all about learning, growing up, gaining experience and unlocking opportunities.
I am blessed to have had the opportunity to launch startups in this region. This has helped me to gain wisdom, which I have realised in the past years.


HQ: From an entrepreneur perspective, share your key-takeaways that you've learnt when expanding globally.
IBRAHIM MANNA:
1. Focus on the end goal.
2. Study your business development before deciding to expand.
3. Find immeasurable local talents to assist you before you commence with your expansion.
4. Figure out the market product fit to be able to address issues, not only to provide solutions.
5. Gain enough traction and momentum in order for you to raise funds and invest in an exciting opportunity.
HQ: Can you tell us a little about Tech Tuesdays? Why have you started this initiative?
IBRAHIM MANNA: I was involved with a group of inspiring individuals and together we wanted to begin something meaningful for the youth of Amman. After a couple of brainstorming sessions, we decided to create a monthly "tech meet-up" every first Tuesday of the month, where we shared with the local and international communities some insightful tech learnings from across the globe which helped benefit the youth of Amman and the entrepreneurs were inspired. Tens of thousands of Jordanians were glad to see the community receptive of such initiative.
HATCH QUARTER: How else have you engaged with the startup ecosystem?
IBRAHIM MANNA: On a weekly basis, I provide mentorship to a couple of corporations in the region. I am very engaged in talks during events in different incubators and startup accelerators across the region. I was honoured to speak about employment and how can you overcome obstacles in the MENA region during the "Opportunity for All: Promoting Growth, Jobs, and Inclusiveness in the Arab World" conference, which was held in Marrakesh, Morocco, in January 2018. The event was organised by the International Monetary Fund (IMF).
Working with Careem because every day we are actually creating an institute that inspires communities to support each other in various ways.
HATCH QUARTER: How can the Australian and MENA Startup Ecosystems benefit from collaborating with each other?
IBRAHIM MANNA: I am sure there are a lot of synergies between the two markets. MENA is an appealing region for Australia to invest in, its capabilities and offerings are compatible. There are some challenges in the region, and these challenges give more opportunities for businesses to come and invest. The younger generations are very tech-savvy and I suppose that they can be beneficial in such collaborations.
Our region has a good broadband infrastructure, but I believe that the MENA region should start expanding their horizons beyond this area. In addition, I've seen Australia's investment matrix and it looks like an exciting opportunity to be explored.
GET IN TOUCH IF YOU WOULD LIKE TO LEARN HOW TO EXPAND YOUR STARTUP TO THE MIDDLE EAST