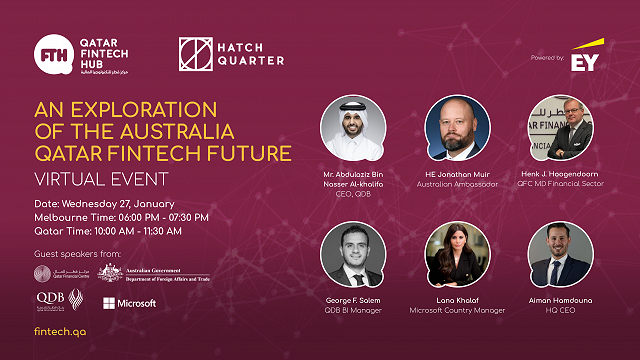 For this event, we have invited five honourable speakers who are key industry leaders and are at the forefront of Australia-Qatar trade, relations, and startup ecosystems. Our panel of honourable speakers include:
► H.E. Mr Jonathan Muir, Australian Ambassador to Qatar
► Mr Abdulaziz Nasser Al Khalifa, Chairman of the Qatar FinTech task Force & CEO of Qatar Development Bank
► Henk J. Hoogendoorn, Managing Director Financial Sector at Qatar Financial Centre
► Lana Khalaf, Country Manager (Qatar) at Microsoft
► George F Salem, Business Intelligence Manager at Qatar Development Bank, and FinTech Advisor for QFTH

Facts, figures and statistics are as presented in the webinar.
Relationship between Australia and Qatar
Due to the COVID-19 pandemic, Qatar's economy contracted by 3% in 2020. However, this is significantly lower than the regional average and is expected to rebound by 2.5% in 2021. Growth will continue in 2022 ahead of the FIFA World Cup at a rate between 4-5%. Furthermore, Qatar's debt raising through COVID-19 was heavily oversubscribed, indicating there are more buyers of the security than there is offered, thereby highlighting the trust the market has for Qatar to pay back the debt.
The commonality shared between HQ and QFTH is driven by the strong bilateral relationship between Australia and Qatar. Qatar is Australia's second-largest two-way trading partner in the MENA region, as it registered $2 Billion in 2020. Some Australia-Qatar bilateral relations facts include:
► Australia remained Qatar's 12th largest source of merchandise.
► Qatar's services exports to Australia increased by 5.5%.
► Qatar's investment in Australia is estimated to be around $ 3 million, in property, logistics and agriculture.
► Commercial links are present, which are prevalent in food exports and engineering services.
► Nebras Power Investment (Qatar-based shareholding company) acquired a 49% equity stake in a wind farm in Australia. The wind farm is the largest in the southern hemisphere.
Science and research run strong between the two countries as there are research links with 24 Australian universities undertaking collaborative projects with Qatari institutions including:
► Curtin University and Hamad Bin Khalifa University (HBKU), launched a joint project to tackle corrosion in materials, an issue present in the oil and gas industry.
► Investments have been made towards a joint collaboration project to tackle chronic and respiratory diseases.
The FinTech Industry in Australia and Opportunities in Qatar
In Australia, there are 733 active fintech startups. 30% of this segment is dominated by payments, wallets and supply chains; 20% is lending; and 30% is data and analytics. The Australian fintech industry is growing with there being a 12% increase in paying customers, reaching a total of 39% in 2020.
Qatar remains one of the Middle East's most competitive economies, with its close proximity to markets in Turkey, Kuwait, Oman, India and Pakistan ($2.1 trillion market size). QFTH has attracted over 750 applications from early-mature stage FinTechs in Qatar and other 72 countries. Startups in this region lead in transport and media.
This demonstrates the vast opportunities present in Qatar, as the FinTech industry is one of the highest emerging markets, filled with active incubators/accelerators and high-level entrepreneurial intentions and untapped opportunities.
Some trends identified within the fintech industry are:
► Consumer data
► Digital currency
► Capital market
► Payment, mobile, touchless
► Personalised service offerings
Panel Discussion: Exploring the Tech Opportunities in Qatar
Leading Technologies in the Qatari Public and Private Sectors
The public and private sectors in Qatar are supporting cloud technologies such as artificial intelligence (AI), blockchain, containerisation and app development. These technologies received considerable support from companies such as Microsoft, as made evident through Microsoft's collaboration with Qatar based tech venture firm 360-Nautica, and other incubators such as QFTH.
Lana sees that the focus centred towards providing support and mentorship to startups are by accelerating their growth via cloud technologies. Microsoft aims to provide a sandbox of their technologies to startups, to allow them to test, deploy and grow their ideas. In addition, Microsoft plans to establish a new cloud data centre region in 2021, which will expand on Qatar's digital transformation.
Australia Qatar Synergy in the FinTech sector
Currently, Qatar is in the process of a nation-building exercise. Qatar has an abundance of local talent that are continually developing disruptive technologies, however, it is not enough to fulfil their ambitions.
Henk believes that attracting international fintech companies to enter Qatar will not only serve the Qatari market but others as well. Australia has a dense pool of talented entrepreneurs, and Qatar can offer startups opportunities, access to an untapped market and capital.
Opportunities for Australian FinTech/tech companies & investors in Qatar
George highlighted that Qatar's fintech strategy is aligned with Qatar's National Vision 2030, aiming to enable fintech companies to attack local and international challenges. Due to COVID-19, there is a great ambition to deliver a cashless ecosystem ahead of the FIFA World Cup 2022.
Lana explains that Qatar aims to become a sports hub globally, with future events such as the 2030 Asian games to be hosted in the country. This presents an opportunity for fintech companies within the payment industry, to address this urgent need. Furthermore, Lana expresses how Qatar has embarked on a journey to develop smart cities, which encompasses the deployment of smart applications in a variety of sectors such as energy, mobility, infrastructure etc, mentioning those vast opportunities will be made available as Qatar continues to transform the future.
Opportunities and gaps within the FinTech sector in Qatar
The financial industry is filled with regulations in order to ensure the consumer is protected. However, it is estimated that 80% of fintech startups are not bound by these strict rules and regulations. This is the result, as fintech companies do not deal with consumers, as their focus is on providing their technologies.
Such technologies could range from cybersecurity to AI solutions. These sectors are greatly encouraged to enter the Qatari market.
Fundraising in Qatar
The incubator and accelerator programs offered by Qatar Fintech Hub would be a great avenue for startups to raise capital to launch their ambition. The incentives provided include access to market, regulators and stakeholders and equity funding.
Advice for startups looking to enter the Qatari market
Consider local partnerships, as it would provide guidance in regards to techniques and tactics on how to penetrate and participate in the market.
Reach out to mentors, stakeholders and partners.
Take your time to prepare yourself and develop skills within niches.
The Takeaway
Australia and Qatar share many commonalities, with one being the emergence and investment towards technologies in the FinTech market. Case studies such as DaVinci+ demonstrate how Australian tech startups can enter the Qatari market with open arms, and have access to avenues such as the QFTH.
Through these avenues, Australian startups are enabled to test and develop their idea adequately, as gaps in knowledge will be addressed. Moreover, Qatar-based startups will also have the opportunity to penetrate the Australian market with the assistance of incubators such as HQ, by providing a high level of guidance.
Despite COVID-19 affecting all sectors, the future is bright for fintech startups especially ahead of the initiatives formed and the FIFA World Cup. The demand for technologies is high, and opportunities are waiting to be taken!
To watch the webinar of this event, visit Qatar's FinTech Hub's YouTube channel.
To never miss out on Hatch Quarter events and webinars, visit our Eventbrite page.
Hatch Quarter's MENA Bridge for Startups
Hatch Quarter is proud to announce the official launch of the MENA Bridge for Startups Program, a step towards strengthening Australia's global connectedness in the startup ecosystem.
The program will be an opportunity for not only Australian startups, but also investors and key stakeholders to enter an emerging and high-growth market in the Middle East and North Africa (MENA) region. Through the acceleration of Australian tech startups, the MENA Bridge for Startups will drive innovation and economic growth. For further information about the program, visit the website here.
If you have any questions regarding the program, you can contact us at [email protected]